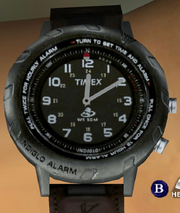 Watch is a Timex brand watch that Ryo Hazuki wears on his left wrist. Although the exact model was never released in the 1980s, it is based on the Timex Expedition series from that time. There were limited edition extremely rare commemorative watches produced by Timex, with Shenmue branding, although they differ in appearance from the exact watch in the game.
Ryo can always look at this watch to find out what the current in-game time is. He also has an alarm set for 11 P.M., which is when he has to go home and go to sleep. Also when he stays at the Come Over Guest House, he sets another alarm to wake up at 7:46 A.M. due to his alarm clock being back in Yokosuka. The watch also has a backlight function.
Ad blocker interference detected!
Wikia is a free-to-use site that makes money from advertising. We have a modified experience for viewers using ad blockers

Wikia is not accessible if you've made further modifications. Remove the custom ad blocker rule(s) and the page will load as expected.