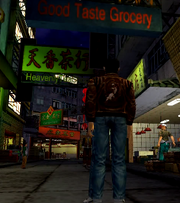 Wan Chai (湾仔) is located next to Aberdeen, Hong Kong, and is separated into different Quarters all containing their own shops and various establishments for Ryo Hazuki to visit.
These are the areas Ryo can visit in Wan Chai.
Green Market Quarter
South Carmain Quarter
Golden Quarter
White Dynasty Quarter
Lucky Charm Quarter
Wise Men's Quarter
Scarlet Hills
Ad blocker interference detected!
Wikia is a free-to-use site that makes money from advertising. We have a modified experience for viewers using ad blockers

Wikia is not accessible if you've made further modifications. Remove the custom ad blocker rule(s) and the page will load as expected.