Timex Group USA, Inc. (formerly known as Timex Corporation) is a subsidiary of the Dutch company Timex Group B.V., and its US headquarters, is based in Middlebury, Connecticut. The company is the current day successor to the Waterbury Clock Company, founded in 1854 in nearby Waterbury, Connecticut.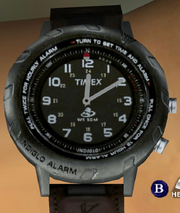 The protagonist of Shenmue Ryo Hazuki wears a Timex watch. He also has a Timex alarm clock in his room.
Ad blocker interference detected!
Wikia is a free-to-use site that makes money from advertising. We have a modified experience for viewers using ad blockers

Wikia is not accessible if you've made further modifications. Remove the custom ad blocker rule(s) and the page will load as expected.