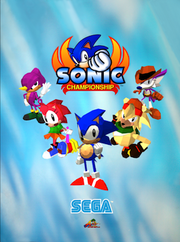 Sonic the Fighters (ソニック・ザ・ファイターズ Sonikku za Faitāzu), known as Sonic Championship on arcade versions in North America and Europe, is a fighting game developed by Sega AM2 for Sega's Model 2 arcade system. The game, which allows players to fight using characters from the Sonic the Hedgehog series, was released in arcades in Japan in May 1996 and North America in July 1996. The game was included in the compilation disc Sonic Gems Collection for PlayStation 2 and Nintendo GameCube in 2005. A HD port for Xbox Live Arcade and PlayStation Network was released in November 2012.
The characters of Sonic the Fighters, including the boss and secret characters make cameo appearances in the Shenmue series as collectible Capsule Toys.
Ad blocker interference detected!
Wikia is a free-to-use site that makes money from advertising. We have a modified experience for viewers using ad blockers

Wikia is not accessible if you've made further modifications. Remove the custom ad blocker rule(s) and the page will load as expected.