Release date
August 21, 2018 (WW)
November 22, 2018 (JP)
Platform(s)
PC, PlayStation 4, Xbox One

Shenmue I & II is a re-release of both Shenmue and Shenmue II. The port is developed by D3T, published by Sega and was released worldwide on August 21, 2018, and will release in Japan on November 22, 2018, for the PC, PlayStation 4 and Xbox One. All versions of the game include a reversible cover and poster.
Details
Shenmue II is ported using the Xbox version, not the Dreamcast version.
Saves can be carried over from Shenmue into Shenmue II on all platforms.
English and Japanese dual audio for both games.

The Japanese audio is uncensored, so Yuan has a masculine voice instead of a feminine voice.[1] Although during the free battle with Yuan, the game still uses the Japanese feminine voice. The Engish subtitles for the Japanese audio also use male pronouns when referring to Yuan.

30 FPS only, due to technical difficulties with the engine.
All of the arcade games can be played.
New features:
Ability to save anywhere in both games.
Updated controls; there is a new optional modern control scheme, meaning the player can use the analog stick instead of the D-pad to move Ryo, and there is full mouse and keyboard support for PC users. There is also full controller support and configurable mouse and keyboard for PC users.
Updated UI.
HD rendering resolution (4K support only on PC).
Widescreen support for gameplay where the player can control the camera; cutscenes are 4:3 letterbox.
New optional post processing effects for both games, such as bloom, AA, etc.
Full Achievement support for both games on all platforms.
Changes:
The majority of cassette tapes that are purchasable in Shenmue and have someone's face on the cover art are now altered so that the faces resemble NPC characters seen in Shenmue. It is unknown why this was changed.
The "Super Ball" Capsule Toys are now renamed to just "Ball".
In the Dreamcast version of Shenmue, capsule toys of Sega-console mascot characters such as "Dreamcasko" and "Gear-O" that originated from Japanese magazines were obtainable through the Excite Sega World machine. Now, these are changed to toys of Sega consoles like "Dreamcast" and "Game Gear".
Certain licensed names are now altered such as "Sumitomo Bank" being changed to "Yokosuka Bank" and the "Timex" brand items being changed to the "Sega" brand.
All Phone Numbers have their last digit removed. This is due to these being actual real numbers in Japan, and many Japanese players called these numbers when the game was first released.
When viewing the "secret" section of the Snapshots menu in Shenmue II, all characters now have new and high quality pictures.
When viewing the information of a snapshot taken of Yuan, the game no longer uses feminine pronouns in Yuan's profile. It instead labels Yuan as "The executive of the Yellow Heads", leaving Yuan's gender androgynous.
Development
Yu Suzuki stated he strongly wanted the first two games to be remastered to let Shenmue newcomers play the original two games and be prepared for Shenmue III. It would also preserve the Shenmue series and make it more accessible.
In 2016, a SEGA spokesman said they are currently investigating how to make it a reality, but the issue is primarily with the licensing in the original games.[2]
Later, in September 2016, SEGA Europe registered two domains "shenmuehd.com" and "shenmueremastered.com".[3] It is unknown if these were done because an official project is underway, or simply to take these domain names in advance in case it was.
In 2018, Yu Suzuki Tweeted that there will be many more surprises for fans.[4] When asked about an HD dualogy, he later said, "It's something I can not talk about for the moment."[5]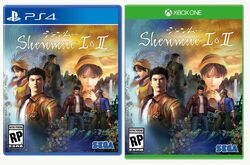 During the SEGA FES event on April 13, 2018, Shenmue I & II were announced, with a 2018 release date.[6]
On July 3, 2018, SEGA released a new trailer for Shenmue I & II, including a release date of August 21, 2018.
A month later, on August 3, SEGA announced that the collection would be released in Japan on November 22. A special, Japan-exclusive limited edition for the game was also announced, including the game and a 2-disc soundtrack.
Cancelled remake
After the HD collection was released, it was revealed that the game almost received a complete remake. However, it was mysteriously cancelled, likely due to budget constraints or concerns with changes to its assets.[7]
Reception
In the review by DigitalFoundry, the remaster is said to be a basic and competent port, having fixed some of the issues of the originals.[8] Although some of the fanbase is split on which version of the two Shenmue games are definitive, there are many who consider Shenmue I & II definitive, feeling that the pros outweigh the cons, and the easy accessibility to both games is worth it.
Despite this, it was also noted that while the port is competent, it is not perfect, due to the technical limitations. For example, the 30 FPS cap could not be removed because it was tied to the game engine. Apart from the UI, the textures remain the same, not all cutscenes are in widescreen, characters still pop-in around town, and the voice quality is low, possibly because original voice recordings are lost or were too difficult to program in. The sky in the first game still moves fast when the camera is turned and is made more noticeable due to the widescreen.[9] Some audio quality is also worse, although there is a fan working to restore it.[10]
Upon release, it was discovered that there were plenty of glitches and technical issues, such as cutscene errors, audio glitches, etc, causing fans to compile a list of glitches.[11][12] The game received a day one patch to fix issues, and had a few more patches rolled out to fix issues, although the game's launch on console was criticized because the console patches took longer. It is generally regarded that the PC version is generally regarded as the most stable while the PS4 version is the most unstable, with the Xbox One version being somewhere in between. It is also recommended to make multiple save files in case of some rare corruption.
PC modders found a way to keep widescreen during all cutscenes.[13]
External links
Videos
Gallery
Shenmue
Shenmue II