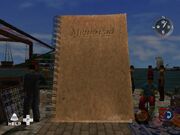 The Notebook was a feature to help the player out with clues. Every time a new event or a general chat happens a sound pops up to inform the player. Shenmue had a list of telephone numbers for the player to ring up. The phone numbers got replaced in Shenmue II or a recap of the first story and got expanded to include jobs and gambling outlets.
Gallery
Ad blocker interference detected!
Wikia is a free-to-use site that makes money from advertising. We have a modified experience for viewers using ad blockers

Wikia is not accessible if you've made further modifications. Remove the custom ad blocker rule(s) and the page will load as expected.