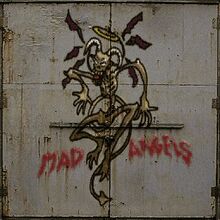 The Mad Angels is a biker gang at the New Yokosuka Harbor District. The leader is Terry Ryan. They pick on the new workers at the harbor and the gang is also connected to the Chi You Men. The Mad Angels is made up of 70 or possible more members. Most of them if not all seem to all work at the Harbor areas.
Known members
See also: Mad Angels category
Gallery
Ad blocker interference detected!
Wikia is a free-to-use site that makes money from advertising. We have a modified experience for viewers using ad blockers

Wikia is not accessible if you've made further modifications. Remove the custom ad blocker rule(s) and the page will load as expected.