Jin Niu, a Yellow Head Member
Birthdate
August 22nd, 1958
Occupation
Yellow Head member
Jin Niu is a member of the Yellow Heads.
Jin is first seen along with other guys accompanying Yuan in the F Warehouse where they were making a deal with Gangfang Lin.
He is seen again in the Yellow Head Building, where he attempts to hit Ryo Hazuki with a pipe while Yuan chases him and Wuying Ren with a chainsaw.
Shenmue Online Profile
Edit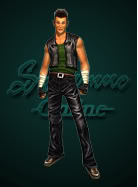 .
Physical Strength: 270
Attack Power: 47
Battle Method: Grapple
Level: Ten
Jin's zodiac sign is Leo and he has a A blood type.
Ad blocker interference detected!
Wikia is a free-to-use site that makes money from advertising. We have a modified experience for viewers using ad blockers

Wikia is not accessible if you've made further modifications. Remove the custom ad blocker rule(s) and the page will load as expected.