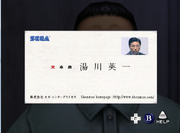 Business Card is Mr. Yukawa's business card that Ryo Hazuki obtains in the What's Shenmue? demo.
When Ryo asks Yuji Nito of You Arcade about Mr. Yukawa, he learns that he was at the Arcade. Yuji shows him his business card and tells him there's something written on the back of it. Ryo asks if he can keep it, and Yuji allows it. On the back of the card it has the Dreamcast logo with the words "4 p.m. Asia Travel Co." written on it.
Ad blocker interference detected!
Wikia is a free-to-use site that makes money from advertising. We have a modified experience for viewers using ad blockers

Wikia is not accessible if you've made further modifications. Remove the custom ad blocker rule(s) and the page will load as expected.