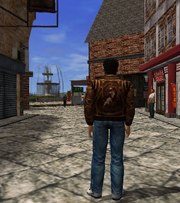 Aberdeen (香港仔) is where Ryo Hazuki first arrives in Hong Kong.
These are the areas Ryo can visit in Aberdeen.
Worker's Pier
Fortune's Pier
Beverly Hills Wharf
Queen's Street
Ad blocker interference detected!
Wikia is a free-to-use site that makes money from advertising. We have a modified experience for viewers using ad blockers

Wikia is not accessible if you've made further modifications. Remove the custom ad blocker rule(s) and the page will load as expected.